No matter the air conditioning installation cost in Houston, a homeowner should never go without a functioning air conditioner during hot and unpredictable Texas summers! A new air conditioner keeps you and your family comfortable while also protecting your home's interior from damage caused by excessive heat and humidity.
Most homeowners will pay between $1000 and $4000 for a new central air conditioner in Houston. Prices vary according to the make and size of A/C and additional work needed, such as ductwork installation and pouring a concrete pad for the compressor.
If your home needs a new A/C unit, you might note some factors that will affect your residential air conditioner installation cost in Houston. You can then know what to expect from a contractor and what to discuss with him or her to better afford the new Houston air conditioning your home needs.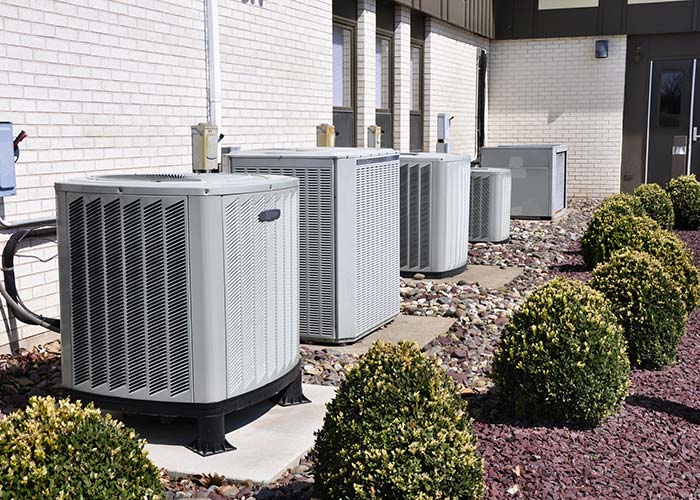 How Much Does It Cost to Get Air Conditioning Installed in Houston?
Every air conditioning installation in Houston is different, depending on a number of factors. Note some of those factors here, so you know what your Houston air conditioning installation contractor takes into account when creating your estimate.
Air conditioning manufacturers have a wide range of price points for their units, even if they're the same size and as powerful as a competitor's unit. Average purchase price for a residential air conditioner in Houston typically ranges from $1700 to over $3000, depending on the brand name.
Energy-efficient air conditioning units are often more expensive than others, even if they're the same size and with the same cooling capacity. However, choosing an energy-efficient air conditioner in Houston often means saving money on your utilities over the unit's lifespan, making it a more cost-effective choice overall.
The labor needed to remove your old air conditioner will figure into the cost of installation for a new unit. Heavier models or those with overly worn parts that cannot be salvaged might add to the work involved in their removal and disposal, adding to your Houston air conditioning installation costs as well.
Adding additional features to a home increases your costs. For example, most central air conditioners work with the blower of a furnace to push air through a home. If your home doesn't have a furnace or central heating, you might need the installation of central fans in addition to the A/C unit.
An air conditioning installation company in Houston might perform an energy audit for your home and note where it loses cooling, such as through drafty windows or a poorly insulated attic. Adding weather-stripping, upgraded insulation, and other such features might increase your air conditioning installation cost, but can be worth that investment.
Tax breaks, rebates, and other such credits also affect the overall cost of air conditioning installation in Houston.
The time of year you decide to have a new air conditioner installed might also affect your cost, as some HVAC companies charge more for peak seasons and less for air conditioning installation in the off-season.
Is Central Air Conditioning a Good Investment?
If your home is without a central A/C unit at the moment, you might wonder if central air conditioning in Houston is a good investment. If you're curious as to an actual financial return on your investment of installation dollars, you might check with a local real estate agent or property appraiser to note how a central air conditioner installation will affect your home's value and if a malfunctioning or broken unit is actually decreasing your property values!
It's also good to note the benefits of a central air conditioner versus window units or no air conditioning at all. One vital benefit to central A/C in your home is that the system will remove humidity more effectively than smaller units. Excessive humidity in a home leads to water damage and potential mold growth, as well as a hot and sticky feeling for all its occupants!
Central air conditioning in Houston might also be more energy-efficient than window models, as undersized and underpowered A/C units need to work harder to cool the air than central units. You might also need to cycle on a smaller unit more often than a central unit. Your investment of a central air conditioner is then more cost-effective in the long run.
What Is the Best A/C Unit for a  Houston Home?
There is no one answer as to the best A/C unit for a Houston home, so note some factors to keep in mind when shopping for a new central air conditioner for your house:
Never assume that an oversized air conditioner is necessarily better. An air conditioner needs time to remove humidity as well as heat, so an overly large and powerful unit might cool a space too quickly and leave your house feeling cold and clammy.
Research the expected lifespan of various brands of central air conditioners. Some models might be cheap to purchase but might also break down sooner rather than later, so you wind up replacing them more often and spending more on your air conditioning installation costs over the years.
Note the cost of replacement parts for your intended central air conditioner. A cheap unit with expensive replacement parts might mean more cost over its lifetime, making it less cost-efficient than a unit that's more expensive to install but which comes with a longer warranty and less expensive parts.
Consider added features you might need for your home in particular, such as additional ductwork for more cooling, a stronger fan for better air circulation, notification of when the furnace filter needs replacing, and so on. Investing in these features can result in a more comfortable environment in your home and more ease of use for your central unit.
Remember, too, to factor in your air conditioning installation cost for a Houston home when choosing a new central unit. Some models might be easier to deliver and set up than others so that their installation is more affordable, while other models might be heavier or otherwise cumbersome to manage so that you're charged more for installation.